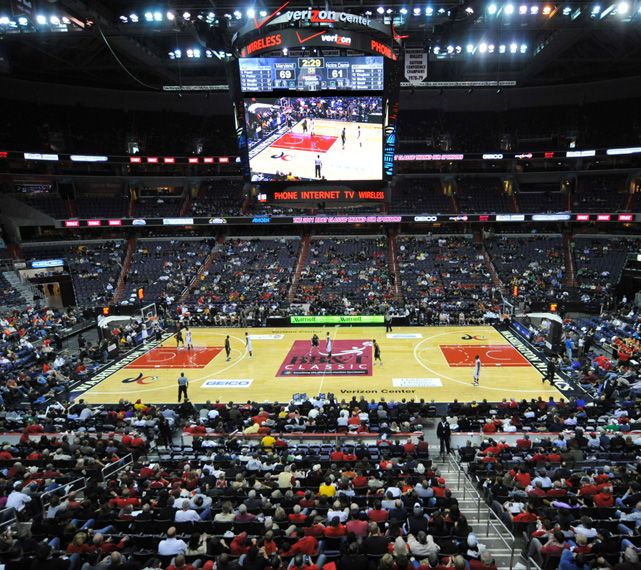 George Mason is coming off two, less than stellar performances heading into this Sunday's BB&T Classic. They are still winners of their last three and now face Maryland, the toughest remaining non-conference opponent on their schedule. A win on Sunday would certainly throw the Patriots into that early at-large, bubble team talk if they don't stumble later on. However the Patriots are faced with a daunting task of having to defend a potential NBA lottery pick at center, Alex Len and a very good wing scorer, Dez Wells. 
The Terps are a farely deep, balanced team and those two names I just mentioned are only the beginning.  Nick Faust and Pe'Shon Howard form a back court that has been playing exceptionally well lately. This team averages more than 76 points a game (Mason 59.6 PPG) and according to
Kenpom
, is the best offensive rebounding team in the country. They just recently beat a pretty good Northwestern team and their only loss was by three to Kentucky during their season opener. In the Northwestern game they were close at halftime before the Terps broke the game wide open early in the second on their first 10 possessions. Considering how poorly George Mason has played in their most recent two second halves, that's a bit scary to think about.
I'm not trying to be all gloom and doom heading into this one for the Patriots; but after watching a lot of Maryland's games this season I've been very impressed. I'd have a little more faith in the Patriots if they hadn't been playing so poorly lately. But this game does remind us a bit of the scenario before the New Mexico game where Mason had a pretty poor performance against Mercer and bounced back to take the Lobos to the wire. Will Mason bounce back like they did in the Paradise Jam for this one on Sunday? That will depend on a lot of factors.
Make no mistake, George Mason is fully capable of winning this game, especially if they play like they did against New Mexico. Their defense will have to be on point, which is it has for the most of the season, and force a lot of turnovers. The Terps actually average more of them per game than the Patriots so they have that going for them. Also, Maryland doesn't force many themselves, being ranked #338 in the country in opposing teams turnover percent according to Kenpom. Granted Mason coughs up a lot of unforced turnovers but this could be a small area they could take advantage in.
Both teams want to run and Mason has to capitalize off turnovers because they will struggle to get the edge on rebounding. Against New Mexico they won the turnover battle and converted many of them into three-pointers. With Vaughn Gray looking good and back in active rotation I suspect the Patriots will letting the three-pointers fly early in this one. Noteworthy stat: last week the Terps let Lafayette go 15-for-32 from behind the three-point line.
The biggest mismatch in this game is the battle in the front court. The Patriots aren't a bad rebounding team, especially when Erik Copes is on his game, it's just that Maryland is a lot better and has more size. Outside of 7'1″ Alex Len, freshmen Shaquille Cleare (6'9″ 270) and Charles Mitchell (6'8″ 260) can also hold their own in the middle. What worries me is that Mason's forwards can't seem to stay out of foul trouble and guys like Paris Bennett and Marko Gujanicic aren't great post defenders. Johnny Williams and Jon Arledge can't get into early foul trouble or else this one could be over quickly. Johnny Williams on the bench for most of the second half on Wednesday night was devastating for Mason.
One last point I'll make is the free-throw line battle. I've been harping all season about how the Patriots don't get there enough and now they are facing a team that doesn't yield many opponent trips to the line. Getting some of Maryland's bigs into foul trouble would go a long way in this one. At some point Sherrod Wright and Bryon Allen need to be more assertive in this area, right? If this game does come down to late free-throws though, at least we know the Patriots are no strangers to close games won at the line.
Statistical Comparison: