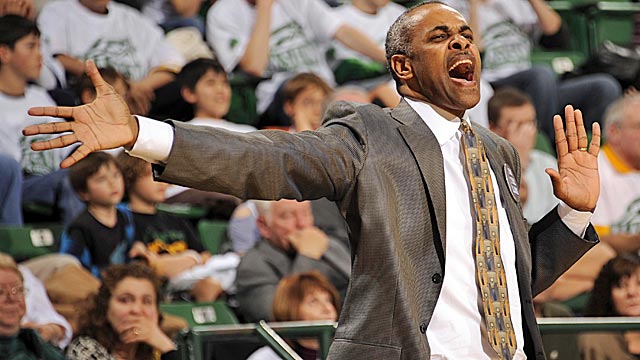 Paul Hewitt has done some recent Q & A sessions with both Jon Rothstein of CBS sports and Ben Standig from CSN Washington. Some of his answers will certainly interest fans, especially the ones about Vaughn Gray and Erik Copes' health.
Rothstein asks if recruiting has been enhanced since the announcement of the A-10 move:
"There's definitely been a shift. We've had to kind of refocus. Some of the guys we were recruiting for a year or year and a half we had to take another look at, especially in July. We started to say "some of these guys may not be good enough for where we're going". You have to start comparing those kids to some of the kids that were coming into the Atlantic 10."
No doubt they had to start re-evaluating who they were targetting once they knew they'd be in a more competitive league. I wonder if this factored into why it took them longer to land their first 2014 commitment. I think this is most difficult part of the transition from the A-10 to the CAA. Hewitt and the staff have their work cut for them in this area.
Both of them ask about the current health status of Erik Copes.
"I think he's healthy now, but I did give him off the month of June. In June he did intense rehab and then in August he didn't go home to Philadelphia. He stayed here and did another month of intense rehab because this hip thing isn't coming along the way we wanted it to. It's kind of bogged him down to be honest with you."
He did however mention that they are hopeful he will be ready for the season opener.
"He's still rehabbing. He didn't do much the first few days of practice. This week we expect him to start doing more. He should be ready for the opener."
Copes is a very important piece to this year's team but they are not dependent on his production as Hewitt states in his answer to Standig. It is worrisome that he is still being bogged down by this injury even after taking some time off this summer. However he is practicing now and we will just have to see how this one plays out.
When asked about x-factors on the team:
"We've got a lot of guys. I expect Vaughn Gray to have a bounce back year. He by his own admission for some reason was just not locked in last year. So far he seems to be really locked in. That's obviously a good sign for us."
It was a mystery why Gray didn't see the court more last season. "Not locked in", well ok then.
And lastly he praises Jon Arledge:
"The hope is he's going to be one of the best players in the league, that's the hope. He's doing things now that he wouldn't have done before. There were times when guys would come driving in and wouldn't go block the shot. Or he has a dunk around the rim and go up soft and they'd block it or he'd miss the shot. I can remember the game against Delaware last year when he just didn't finish. At the end of the year he was attacking the rim. So far in practice, even with a bad back, he's been attacking the rim really hard. I think he has a chance to be one of the best players  in our league, no question."
Hoping the back injury is minor at this point. The changes in his game after Williams got hurt was something everyone noticed. I think he will build on that this season and be even more productive. One of the best players in the league though, not so sure about that one.