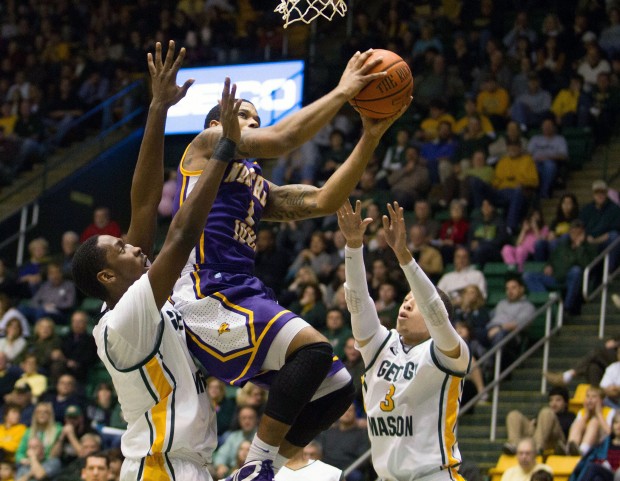 The Patriots will host Northern Iowa on Saturday missing three starters, Erik Copes (suspension), Jon Arledge (bruised back), and Bryon Allen (bruised MCL). Patrick Holloway will get the start tomorrow in place of Allen. Marko Gujanicic and Johnny Williams have filled in nicely for Copes and Arledge but this team could really miss Allen against the Panthers. UNI doesn't have a division I win yet through their first two games but this will be a real test for short-handed George Mason.
Last season when these two teams met, with UNI winning in overtime, George Mason played some very sloppy basketball. Perimeter defense was awful and they turned the ball over 17 times. Mason had 19 turnovers against Lamar and it's been a problem area for them at the Patriot Center. They have been a much better rebounding team through these first two games, especially on the offensive glass and need to keep that up.
With the limited number of the bodies available, the Patriots will have to been careful on defense. Wright and Allen got into early foul trouble against Lamar and Jalen Jenkins also had two quick ones that limited his minutes. With Allen missing I would expect to see a lot more of Hewitt's point-zone defense and less man-to-man. This could lead to some open looks on the perimeter, more so than usual.
On offense, Sherrod Wright and Marko Gujanicic should be the plan. Wright has been consistent, scoring 13 points in the season's first two contests. He will get a lot more touches without Allen in the lineup. Marko's coming off a solid double-double effort against Lamar and has been looking a lot more comfortable this season. I am really liking the hook shot he continues to develop:
They are less dynamic on both ends without Allen but Patrick Holloway and Vaughn Gray should make good use of the extra minutes. This is a great opportunity for Gray, who is getting close already to playing more minutes this season than the entire 2012-2013 campaign. Holloway has improved on defense but will really have his work cut out for him in this one. If he struggles the Patriots won't have many options in that area.